Outline
Although it is now possible to engineer living organisms to express almost any gene in a controlled fashion, the mechanisms governing this control still remain elusive. In eukaryotes, genes are large, with regulatory elements often tens, or even hundreds of kilobases away from their target promoter. Yet, even given this distance, these distal elements can still faithfully find and control their target promoter in a precise fashion. The experiments performed in our laboratory aim at understanding on how these distal regulatory elements can control gene expression. As our model system, we study the regulation of the homeotic genes (Hox gene) of the Drosophila bithorax complex (BX-C) Regulatory elements, spanning a 300 kilobases-long region of the BX-C DNA are required for proper expression of three hox genes, Ubx, abd-A and Abd-B. Homeotic genes are strikingly conserved between invertebrates and vertebrates. The genes are found in clusters or 'complexes' that are arranged on the chromosome in the order of their function along the anteroposterior body axis. This striking correspondence between genomic organization and antero-posterior axis gives us a unique opportunity to study gene regulation in its chromosomal context. The amazing evolutionary conservation in the genomic organization of hox complexes is further highlighted by the recent finding of 2 conserved micro-RNAs at similar location within the complexes of arthropods and vertebrates.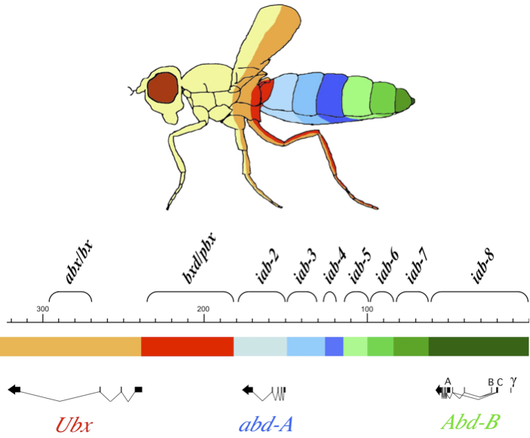 Ongoing projects
In situ dissection of regulatory domains and boundaries
For much of the last few years, we have been developing tools to precisely dissect this complex locus in situ (see ref (Bischof et al., 2007)). These tools now provide us with a unique opportunity to delve into the intricacies governing the regulation of this complex locus. Our research is presently centered on 3 main questions. The 1st project focuses on how different regulatory elements, such as enhancers, repressors, silencers and insulators interact with one another to generate the final regulatory output on their target gene. Using the advanced genetic methods developed in our lab, we have identified and characterized particular regulatory elements, called initiators. We have found that in vivo, these enhancer-like elements function as switches to coordinate the activity of the neighboring regulatory elements. As such, initiators do not provide cell-type specificity or patterning information, but instead limit the function of other regulatory elements. To our knowledge this is the 1st example of a hierarchical organization between regulatory enhancers (Iampietro et al., submitted). A second type of element that we are currently investigating, is called a chromatin boundary (or insulators). Within the BX-C, boundary elements seem to flank each of the cis-regulatory domains, allowing the domains to function autonomously across the A-P axis (for review see ref (Maeda and Karch, 2007). An important part of our in situ dissection focuses on one particular boundary that we identified, named Fab-7. Using our genetic tools, we can now efficiently and rapidly target specific point mutations to the Fab-7 boundary, and are thus, presently addressing the role of specific binding sites in boundary activity.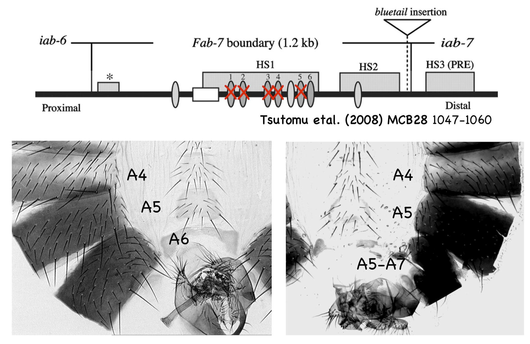 Non-coding RNAs of the BX-C
As with many loci across eukaryotic genomes, the BX-C is the site of intense intergenic transcription (Bae et al., 2002; Drewell et al., 2002; Lipshitz et al., 1987; Sanchez-Herrero and Akam, 1989). In the 2nd main topic of research, we are currently investigating the biological role of these ncRNAs in cis or trans regulation of the BX-C homeotic genes. Our working hypothesis is that initiator elements coordinate the activity of the nearby regulatory elements within a domain by activating intergenic transcription. We are presently testing this hypothesis in the BX-C by inserting transcriptional terminators to block intergenic transcription. Another line of research in the lab revolving around ncRNAs, focuses a peculiar ncRNA from the BX-C that is over 120 kilobases long and is known to serve as the template for a Ubx-specific microRNA. Remarkably, this microRNA is conserved at a similar position in the hox clusters of other arthropods and vertebrates (Bender, 2008; Ronshaugen et al., 2005; Stark et al., 2008; Tyler et al., 2008). Given the incredible length of this ncRNA, we have been investigating other roles that this ncRNA may playing in BX-C regulation.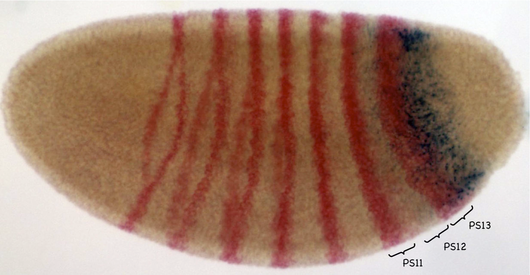 Studying Abd-B regulation with BACs
The readouts of Abd-B activity in assigning segment identities are visible in the cuticle of the adult abdominal segments and in the embryonic expression expression pattern. Surprisingly little is known about Abd-B expression during the 3 larval stages and metamorphosis. The problem stems from the fact that larvae and pupae are difficult to analyze with antibody or in situ hybridization based methods. In the 3rd line of experiments, we have been using BACs spanning the Abd-B gene and its large 3' cis-regulatory region to study Abd-B regulation and to identify new tissues in which Abd-B is expressed. By crossing BAC transgenic inserts that faithfully express the yeast Gal4 activator in the pattern of Abd-B to UAS-GFP reporters, we can now monitor Abd-B expression in vivo at all developmental stages and in all tissues. We are presently focusing on Abd-B expression and activity in the male accessory glands. The male accessory gland is the synthesis site of numerous Accessory-Gland-Specific-Proteins (Acps; more than 100 are identified) that elicit a number of post-mating behaviors in females after copulation. These behaviors include: increasing egg production, ovulation, and oviposition; regulating sperm utilization and storage; and decreasing receptivity to remating (for review, see ref. (Wolfner, 2009). Thus far, we have identified the cis-acting elements responsible for Abd-B expression in the accessory gland and recovered mutants specifically deleting these enhancers. Phenotypic analysis of these mutants is currently underway.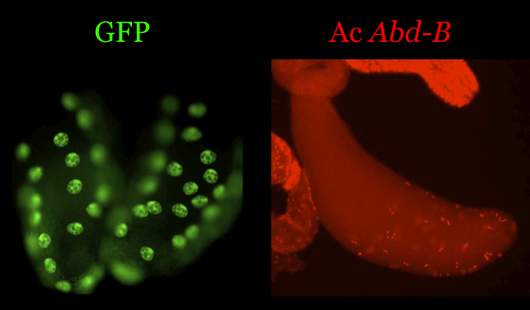 References
Aoki, T., Schweinsberg, S., Manasson, J. and Schedl, P. (2008). A stage-specific factor confers Fab-7 boundary activity during early embryogenesis in Drosophila. Mol Cell Biol 28, 1047-60.
Bae, E., Calhoun, V. C., Levine, M., Lewis, E. B. and Drewell, R. A. (2002). Characterization of the intergenic RNA profile at abdominal-A and Abdominal-B in the Drosophila bithorax complex. Proc Natl Acad Sci U S A 99, 16847-52.
Bender, W. (2008). MicroRNAs in the Drosophila bithorax complex. Genes Dev 22, 14-9.
Bender, W., Akam, M., Karch, F., Beachy, P. A., Peifer, M., Spierer, P., Lewis, E. B. and Hogness, D. S. (1983). Molecular genetics of the bithorax complex in Drosophila melanogaster. Science 221, 23-9.
Bender, W. and Hudson, A. (2000). P element homing to the Drosophila bithorax complex. Development 127, 3981-3992.
Bischof, J., Maeda, R. K., Hediger, M., Karch, F. and Basler, K. (2007). An optimized transgenesis system for Drosophila using germ-line-specific phiC31 integrases. Proc Natl Acad Sci U S A 104, 3312-7.
Celniker, S. E., Sharma, S., Keelan, D. J. and Lewis, E. B. (1990). The molecular genetics of the bithorax complex of Drosophila: cis- regulation in the Abdominal-B domain. Embo J 9, 4277-86.
Drewell, R. A., Bae, E., Burr, J. and Lewis, E. B. (2002). Transcription defines the embryonic domains of cis-regulatory activity at the Drosophila bithorax complex. Proc Natl Acad Sci U S A 99, 16853-8.
Iampietro, C. Gummalla, M., Mutéro, A., Karch, F. and Maeda, R. Initiators elemements function to determine the activity states of BX-C enhancers. Submitted to PLoS Genetics
Karch, F., Galloni, M., Sipos, L., Gausz, J., Gyurkovics, H. and Schedl, P. (1994). Mcp and Fab-7: molecular analysis of putative boundaries of cis-regulatory domains in the bithorax complex of Drosophila melanogaster. Nucleic Acids Res 22, 3138-46 Issn: 0305-1048.
Karch, F., Weiffenbach, B., Peifer, M., Bender, W., Duncan, I., Celniker, S., Crosby, M. and Lewis, E. B. (1985). The abdominal region of the bithorax complex. Cell 43, 81-96.
Lewis, E. B. (1978). A gene complex controlling segmentation in Drosophila. Nature 276, 565-70.
Lipshitz, H. D., Peattie, D. A. and Hogness, D. S. (1987). Novel transcripts from the Ultrabithorax domain of the bithorax complex. Genes Dev 1, 307-22.
Maeda, R. K. and Karch, F. (2006). The ABC of the BX-C: the bithorax complex explained. Development 133, 1413-1422.
Maeda, R. K. and Karch, F. (2007). Making connections: boundaries and insulators in Drosophila. Curr Opin Genet Dev 17, 394-9.
Peifer, M., Karch, F. and Bender, W. (1987). The bithorax complex: control of segmental identity. Genes Dev 1, 891-98.
Ronshaugen, M., Biemar, F., Piel, J., Levine, M. and Lai, E. C. (2005). The Drosophila microRNA iab-4 causes a dominant homeotic transformation of halteres to wings. Genes Dev 19, 2947-52.
Sanchez-Herrero, E. (1991). Control of the expression of the bithorax complex genes abdominal-A and abdominal-B by cis-regulatory regions in Drosophila embryos. Development 111, 437-49.
Sanchez-Herrero, E. and Akam, M. (1989). Spatially ordered transcription of regulatory DNA in the bithorax complex of Drosophila. Development 107, 321-9.
Sanchez-Herrero, E., Vernos, I., Marco, R. and Morata, G. (1985). Genetic organization of Drosophila bithorax complex. Nature 313, 108-13.
Stark, A., Bushati, N., Jan, C. H., Kheradpour, P., Hodges, E., Brennecke, J., Bartel, D. P., Cohen, S. M. and Kellis, M. (2008). A single Hox locus in Drosophila produces functional microRNAs from opposite DNA strands. Genes Dev 22, 8-13.
Tyler, D. M., Okamura, K., Chung, W. J., Hagen, J. W., Berezikov, E., Hannon, G. J. and Lai, E. C. (2008). Functionally distinct regulatory RNAs generated by bidirectional transcription and processing of microRNA loci. Genes Dev 22, 26-36.
Wolfner, M. F. (2009). Battle and ballet: molecular interactions between the sexes in Drosophila. J Hered 100, 399-410.