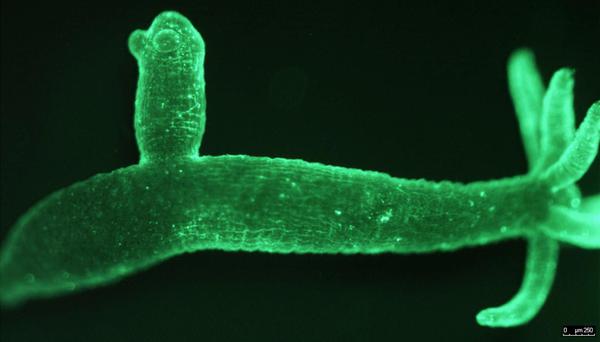 Prof. Brigitte Galliot will give a conference (in french) on Hydra, regeneration and stem cells, at the «Institut National Genevois», on Thursday October 21st, at 8:00 pm.
More details on http://www.inge.ch/
L'Hydre, un mythe et un modèle: de la régénération aux cellules souches
Une question fascinante en biologie est celle posée par la variation du potentiel de régénération à l'intérieur du royaume animal: en effet si de nombreuses espèces sont douées de régénération, la plupart des mammifères semblent avoir largement perdu cette capacité. Dans notre laboratoire nous utilisons l'Hydre d'eau douce qui fournit un modèle puissant pour comprendre l'équilibre entre le maintien d'un état adulte très dynamique et l'activation à n'importe quel âge de programmes de régénération.
Nos travaux ont récemment montré que la mort cellulaire peut jouer un rôle prépondérant dans l'initiation du programme de régénération de la tête, les cellules qui meurent délivrant des signaux qui induisent la division cellulaire des cellules voisines. De façon intéressante, ce mécanisme induit par la mort cellulaire joue également un rôle important chez le tétard de Xénope qui régénère sa queue, chez la larve de Drosophile qui régénère ses disques imaginaux ou même chez les rongeurs qui régénèrent leur peau ou leur foie.
Ces avancées suggèrent qu'il existe des voies communes chez les animaux (et donc l'homme) pour activer un processus de régénération.